Tennis
The CGM tennis facility comprises seven indoor courts and one outdoor viewing court. Features include substantial open space between and behind courts, as well as a state-of-the-art lighting system that provides excellent illumination without glare. Our Tennis Programs are conducted by USPTA Professionals. Our staff is dedicated to making CGM Tennis a great place to play. Our club has many tennis activities to choose from, including; three Ladies City League Teams, USA Adult Team Tennis (12 teams ranging from 2.5-5.0), four USTA Senior teams (men and women), six USTA Super Senior teams (men and women), daily group lessons, private lessons, club mixers, Junior Team Tennis, and many daily and weekly tennis events. It is hard to find a more complete tennis program than Club Green Meadows Tennis. See you on the courts!
Please note: All tennis court times are 90 minutes. Times begin at 7:30 a.m. and continue throughout the day in 90-minute blocks. Only one court may be reserved per phone call per day. No consecutive court times. Tennis members may reserve courts up to two days in advance, after 7:00 a.m. Athletic members must make reservations on the day of play. Anyone using the tennis courts must check in with the Front Desk for court assignment. If you are more than 15 minutes late, you may lose your court.
Check In / Cancellation Policy
All players must check-in at the Front Desk prior to going on court. If a court reservation is not canceled one hour prior to the reserved time, each member will be charged a $5 "no-show" fee.
Court Fees (Per Person)
Athletic member ~ $10.00
Guest (singles or doubles) ~ $15.00

Ball Machine
Single Monthly Pass ~ $25.00
Family Monthly Pass ~ $35.00
One time use ~ $10.00
(We kindly ask that you pick up your tennis balls and replace the ball machine where you got it. Thank you.)
Pickleball
We have 8 indoor hard courts and 9 indoor wooden courts.
Basketball Courts - Pickleball play in the gym is open play for all membership types at no additional cost and can be utilized outside of normal "open" play hours on a first come, first serve basis. Open play in the gym is as follows:
Mon, Wed, Fri & Sun 9am to 12noon
Tues & Thurs 5pm to 7pm
Tennis Courts 6 & 7 - There will be a monthly charge of $25 per person to use Tennis courts 6 & 7 (unless you are a Tennis member), billed in advance to your membership account. The sign-up sheet for this monthly fee is located at the front desk. All members playing Pickleball on courts 6 & 7 will be required to sign in daily at the Front Desk.
Open play for Pickleball on Tennis courts 6 & 7 is as follows:
Monday: 7am-8:45pm
Tuesday: No "open" play
Wednesday: 7am-5pm
Thursday: 7am-8:45pm
Friday: 7am-8:45pm
Saturday: 7am-10:30am and 4pm-8:45pm
Sunday: 7am-10:30am and 3pm-8:45pm
Court times are subject to change due to tournaments and other scheduled events.
Reservations can be made outside of "open play" by following Tennis court reservation policy.
Drills
Beginner-Intermediate: Tuesday and Thursday 11-12
Intermediate to Advance; Wed & Fri 10am to 11am and Weds. 5pm-6pm
Cost is $10 member $15 non-member and must reserve a spot.
Private lessons are $50 member and $55 nonmembers for an hour.
Director of Racquet and Athletic Sports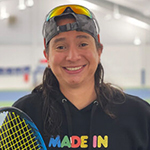 Carlos has been playing tennis for over 25 years. Growing up in Colombia, he played Junior tournaments and held an amateur ranking top 8 in State. He played tennis at the collegiate level for the University of Medellin while earning a degree in journalism as well as audiovisual communications.
During his time in Vancouver, Carlos won the NTRP USTA 4.5 ranked Sectionals both in 2020 and 2022, as well as earning the gold ticket to play in the USTA nationals. Carlos is a USPTA professional tennis coach and is currently getting his Elite certification.
Carlos is honored to be a part of the Green Meadows team again and can't wait to share his passion for tennis with our members. Feel free to contact him now at carlostennis23@gmail.com to set up lessons.
Associate Head Tennis Professional
Emory began his love for tennis while playing with his dad and brother while growing up in Louisiana outside of New Orleans in the bayou. He moved to Portland in 1990 after living 10 years in Miami following his first start teaching professionally at the Tamiami Tennis Center in 1988.
Before making his move to Club Green Meadows, Emory taught at several facilities and was recently a part of the Vancouver Tennis Center's teaching staff. While there, he was involved in teaching a wide variety of lesson formats with Adults and Juniors and planning and implementing various programs.
Emory is a PTR/USPTA certified teaching pro with a P-1 ranking. Along with this, he has a Bachelors in Physical Education and has taught in several schools in the Portland area.
Assistant Tennis Professional
Played Division 1 tennis at Eastern Washington University
Trained a summer at the Andre Agassi No Quit Tennis Academy.
Trained multiple years at the University of Portland under head coach Aaron Gross
Ranked Career High #1 in Men's Open Division PNW
Head Coach of R.A. Long Boys tennis team in 2021.
Coached at Scottsdale McCormick tennis academy in Arizona under Casey Was.
Played multiple ITF Futures Events on the Pro Circuit in Turkey and Mexico. Currently still playing on the ITF Tour.
He is thrilled to be part of the CGM Tennis Department and share his knowledge with our community! Feel free to contact him to schedule a lesson at erikg33@icloud.com.
Assistant Tennis Professional
Arlen has worked at tennis clubs for over 10 years. He co-founded the WSU Cougar Tennis Club in college and continues to play at a high level through USTA.
Arlen will also use his stringer talents to help our players maximize their equipment. Contact him at tennis1@gmail.com with any questions or to set up a lesson.