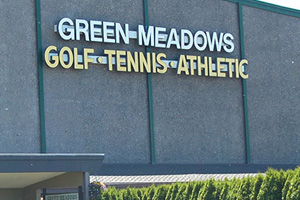 Thank you for your interest in membership! Club Green Meadows is a private, multifaceted club. We offer several different membership categories to fit the needs of prospective members.
Like all successful private clubs, our club is built on social relationships and camaraderie among friends. We take our golf seriously, but take ourselves lightly, with a focus on the best experience for the entire family.
We offer resort-style amenities, with a sense of family and community that is welcoming and relaxed. Tradition, Community and Service…the benchmarks of a great country club, are alive and well at Club Green Meadows.
You are invited to become a member of Club Green Meadows!
Club Green Meadows offers the most unique recreation experience in the Pacific Northwest. Here are just some of the reasons…
Expansive 180,000 sq. ft. Club house
18-hole Championship Course
Fitness Center with Deluxe Locker Rooms
Eight tennis courts (seven indoor, one outdoor)
Two Swimming Pools (indoor and outdoor)
Handball, racquetball, squash, and pickleball
Three basketball courts
Dining with Banquet Facilities
Sauna, Steam Room, and Whirlpool
Membership Options
All plan fees and monthly dues are either Single or Family. Family memberships are based on husband and wife, but could be parent and child/children. Children must be legal dependents. Children aged 0-12 are considered Junior members and can use designated Junior areas at designated times and must be accompanied by an adult at all times. These areas include the 1st and 2nd floor (except 2nd floor locker rooms). At age 25, children on Family memberships must purchase their own membership.